I love July 4th.  It is my favorite holiday of the whole year for so many reasons.  Because I love America.  Because I love Freedom. Because I love all the choices and opportunities that America provides and especially the opportunity to run your own business. 🙂
So, when I had a client contact me and request a "Fourth of July" theme photo session, I wanted to jump through the phone to hug her.
I had to restrain myself when designing these little sets for this Family Photography Session.  I have stars hanging throughout my house year-round and beautiful patriotic things woven into every holiday.  I wanted to include everything I owned in this session, but I didn't! 🙂  I happen to know that this particular client loves all things country, rustic, and vintage, so I headed off in that direction.  I started with some beautiful florals from Annette Rioux Creations, added in some of my own pots and flowers, and finished everything off with a trip to Hobby Lobby.  I love how these elements came together.
But, when I looked at it all, something was missing.  They needed somewhere warm and cozy to sit.
I need a big beautiful patriotic quilt.  Since the one I started five years ago is still sitting in a tub somewhere, I opted to buy one instead and I'm so glad I did.  It adds texture, warmth, and a cozy place for cuddles.  It was the perfect photo prop for this family and will look great in the fall too.
I love this family together.  They are comfortable and relaxed.  They are friendly and they are kind.  It's easy to tell that this little one is Daddy's girl.
I've photographed lots of children under two in the last few months.  They are their own people in so many ways.  They do what they want and go where they want.  You give chase, and pause, and shoot, and hope you get it all captured.  This session was no different.  This little firecracker has her own personality and it shows!  I gave this sweetie a prop rocket, a ribbon wand, and a flag.  She wanted to HOLD THEM ALL AT ONCE. 🙂 hahahahaha.  It made for some cute expressions and lively photos.
Lastly, we had to include a little sign that mom printed.  Check it out and you'll know what made this session extra special!!! 🙂
THANKS FOR LOOKING!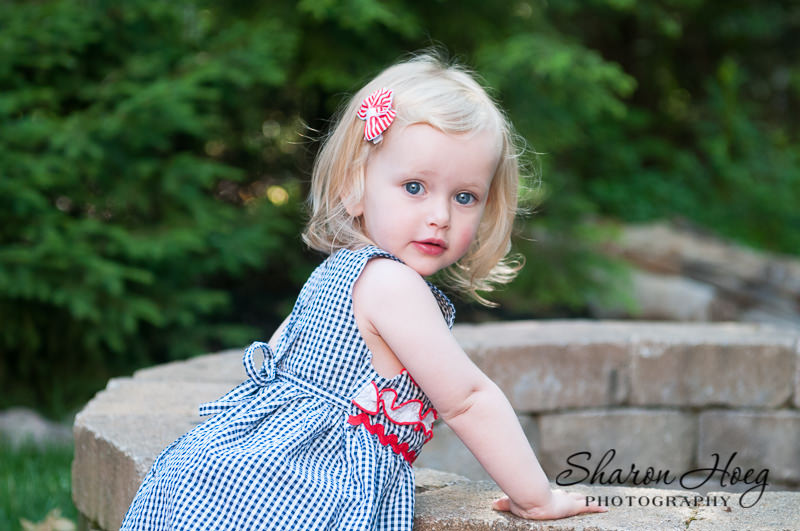 Do you want to plan a pregnancy announcement photo shoot?  Do you love celebrating America?  Do you need some great photos of your family?  Contact Me for photos in the Metro Detroit area! 🙂